1. Introduction
On August 31, CNBC reported that Amazon (AMZN) has received federal approval to operate a fleet of delivery drones. With this move, the company follows UPS and Alphabet's (GOOGL, GOOG) Wing, which had already received FAA approval for their drone delivery operations.
When announcing the quarterly figures for Q2 2020, Alphabet's CEO Sundar Pichai mentioned that Alphabet-owned Wing has started delivering library books to students in Virginia.
In the context of the FAA approval for its Prime Air delivery drone fleet, David Carbon, vice president of Prime Air, stated the following:
"We will continue to develop and refine our technology to fully integrate delivery drones into the airspace, and work closely with the FAA and other regulators around the world to realize our vision of 30 minute delivery."
Just recently, Amazon has invested several billion dollars to shift from two-day to one-day delivery. With the use of drones, the delivery time is targeted to be reduced to up to 30 minutes. At least, this is the company's vision.
As you can imagine, the FAA approval for Amazon's delivery drone fleet represents a true milestone, not only for Amazon but for delivery services, logistics and human life in general.
In this context, it is also noteworthy that Walmart (WMT) announced on September 9 that it will also test using drones for deliveries.
In general, drone deliveries are not a distant vision, but a reality in China, for example. Especially in rural areas of China, which are difficult to reach, orders are already being delivered via drones, according to several reports.
In the following, I would like to discuss the opportunities and risks for Amazon and its shareholders in connection with the use of drones as delivery items.
Furthermore, in the subsequent section, I will evaluate why the company's shares are still favorably valued and offer an attractive entry point.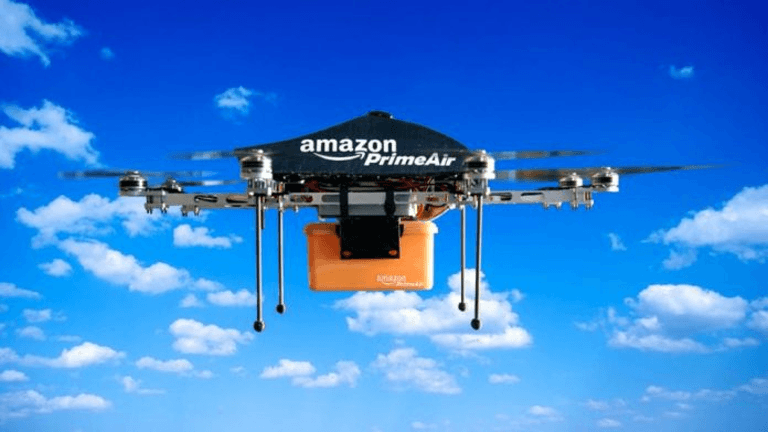 (Amazon delivery drone. Source: Amazon)
2. Why delivery drones could
be a game changer for Amazon and its shareholders

First, the increasing use of drones to deliver orders and as workforce in Amazon's warehouses could, in the long run, drastically reduce the personnel costs, the delivery costs as well as costs of hiring new employees.

In contrast to humans, drones and robots could work almost uninterruptedly except for their loading and maintenance times without taking vacation, sick days, fatigue or motivation problems. Once produced and ready for use, drones offer the possibility of rising economies of scale.

In this context, it is noteworthy that while Amazon is one of the world's largest companies in terms of sales and market capitalization and is rapidly growing, its profitability is comparatively low. In fiscal 2019, the operating margin was 5% and the net margin was 4%.

Among the largest cost categories are shipping (i.e., sorting and delivery centers, transportation costs) and fulfillment. According to Amazon's annual report, these items together amounted to approximately $78 billion (of which $40.2 billion were fulfillment and $37.9 billion shipping costs). This represents approximately 30% of total operating expenses in FY 2019 (see following figure).

(Amazon's operating expenses in FY 2019. Source: Annual Report 2019)
As of July 2020, Amazon already had over one million employees worldwide, according to CEO Jeff Bezos' prepared testimony for a House antitrust subcommittee hearing. The following figure illustrates the company's workforce growth over the past years.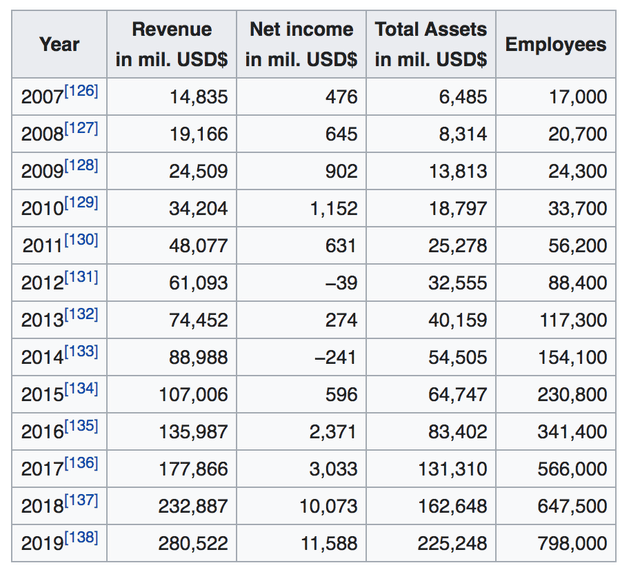 (Amazon workforce growth over the past years. Source: Wikipedia)
At the same time, the company states that it has over 250k full-time employees in its fulfillment centers. The number of employees in this area is growing drastically, as is Amazon's number of global warehouses and fulfillment centers. Consequently, personnel costs are also growing at a rapid pace, which, in turn, reduces profitability, but could be dampened by using drones, for example.
Second, the use of drones could lead to increasing revenues for the company. On the one hand, Amazon could offer merchants and third-party sellers on its platform to use the drones for deliveries against payment of a fee. On the other hand, it is likely to attract more customers and Prime subscribers with the use of drones and the resulting faster deliveries. Especially for people from rural areas, hard-to-reach areas or physically challenged people, the delivery by drones might offer an advantage.
In particular, its combination of hardware (drones), software (AWS, Alexa) and the platform (marketplace) could offer Amazon a large competitive advantage due to the perfect compatibility and connectivity of these services. In this regard, customers could place orders, have them delivered immediately or process returns at any time.
As a consequence of the short delivery times and uncomplicated deliveries, customer satisfaction could, in turn, increase, which could lead to increased customer loyalty.
Furthermore, due to Amazon's wide fulfillment network combined with fast deliveries, merchants that are not currently connected to its network could decide to use Amazon as a delivery service instead of conventional delivery services, which, in turn, could increase Amazon's revenues and economies of scale.
Third, the use of drones could make Amazon a more environmentally friendly and sustainable company. Drones do not need gasoline, they are noiseless and they could help to reduce the traffic load on conventional transport infrastructure, especially in metropolitan areas. This, in turn, could attract environmentally conscious customers and investors.
Nevertheless, there are also risks and hurdles that must be taken into account when using drones as delivery items:
The use of drones as a delivery service is technically limited, as they are currently only suitable for short distances and goods weighing up to 2.5 kilograms.
The use of airspace for drone flights must first be regulated on an international level for global deployment.
Potentially crashing drones represent a serious threat to humans, animals and other objects.
Drones could be exploited by criminals, hackers or other interest groups for espionage purposes.
Parcel delivery by drones jeopardizes jobs in conventional delivery services, which could lead to criticism by trade unions and scrutiny by governments.
Drones could be susceptible to weather, especially to wind and rain.
3. Valuation: Still cheap considering Amazon's growth projections
Regardless of the use of drones as a future game changer, the valuation of Amazon shares based on my valuation criteria is still attractive.
First, in my last article about Amazon, I presented my fair value calculation on a very detailed basis, which is $4,762.53 and corresponds to a potential market cap of around $2.5 trillion. Based on the closing price of $3,294.62 on Friday, this represents a current upside potential of at least 45%.
Second, the last quarterly results of remote work or work from home stocks such as DocuSign (NASDAQ: DOCU) and Zoom (NASDAQ: ZM) could be an indicator that Amazon's growth is also unbroken or has even accelerated.
Compared to these two companies, Amazon not only earns almost exclusively from business customers, but also supplies consumers worldwide with physical and digital goods for everyday use.
While Zoom's Q1 2020 revenue growth was 169% year over year, and Q2 revenue growth was mind-blowing 355%. DocuSign also recorded a sequential growth spurt. Revenue growth in Q1 2020 was 39% year over year, whereas in Q2, revenue growth was 45%.
With regard to Amazon, there were numerous press releases of new hires at a global level (e.g., US, UK, Europe, Africa, India, Australia) in the last few months, i.e., immediately after the publication of the quarterly figures for the first quarter.
The following press releases and reports only refer to new hires reported on Seeking Alpha and most likely to meet the increased and unprecedented demand resulting from the pandemic. There may have been more new hires that we have not heard about:
Consequently, there is a high probability that Amazon could also experience a sequential growth spurt and record accelerated growth compared to the previous quarter. This could also mean that analysts' expectations would once again be massively exceeded.
Third, from my own observations, I can say that in three major German cities, the number of pedestrians in the city centers has fallen massively since the outbreak of the pandemic. Based on media reports, the situation in other countries is similar. Even in direct contact with companies, I notice that an increasing number of employees work from home.
People who are hesitant to leave home will tend to prefer to place online orders or seek entertainment at home. In this context, Amazon could be one of the biggest beneficiaries as the best-known e-commerce company with its huge selection of physical and digital goods.
Fourth, as can be seen in the figure below, Amazon has the highest growth rate in terms of revenues among the so-called FAANG stocks.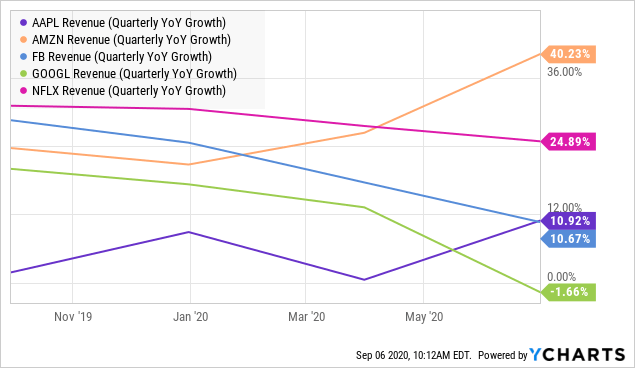 (Amazon revenue growth in peer group comparison. Source: YCharts)
On the other hand, it offers the most favorable valuation among the FAANG stocks with regard to the forward EV/S ratio. As can be seen in the graph below, Netflix (NFLX) and Facebook (FB) have a valuation more than twice as high as Amazon on a forward EV/S ratio basis (see following chart).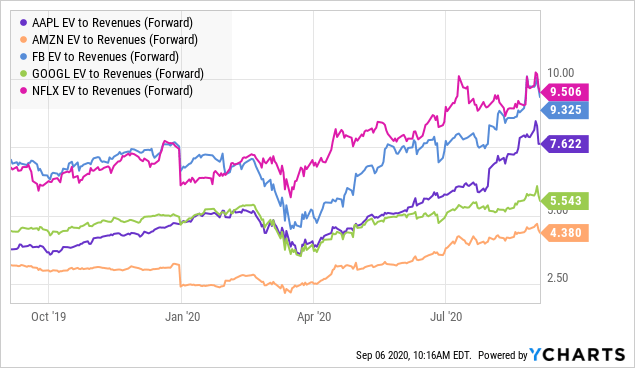 (Amazon forward EV/S ratio in peer group comparison. Source: YCharts)
However, with $13 billion in free cash flows per last quarter, the company generated far more free cash flows than the other two companies (see following figure).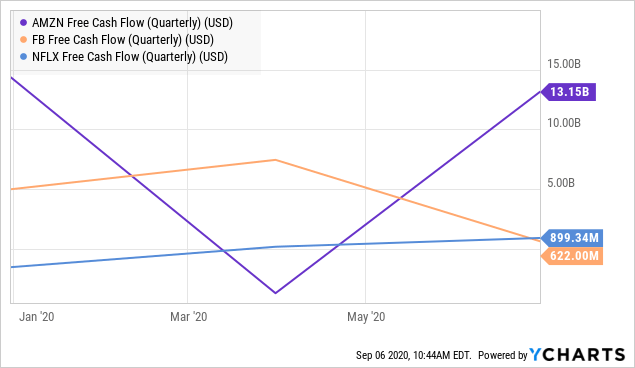 (Amazon quarterly free cash flow. Source: YCharts)
Additionally, as you can see in the following graph, Amazon generated about as much operating income in the last quarter as Facebook with around $6 billion.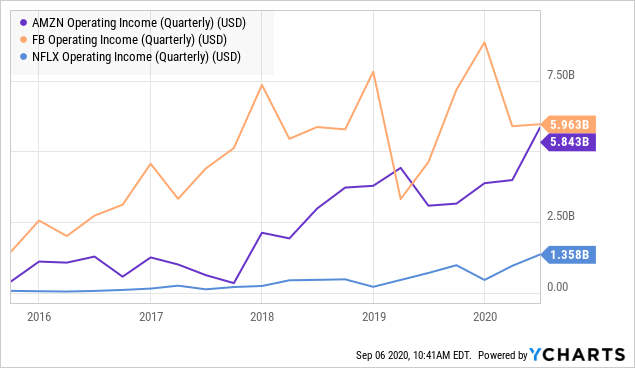 (Amazon operating income. Source: YCharts)
At the same time, Amazon has been showing a stable upward trend in terms of operating income for the past five years, while Facebook's figure seems to be stagnating since 2018.
Furthermore, compared to Netflix and Facebook, Amazon has much more diversified business areas and income streams with, for example, e-commerce, subscription offerings, AWS, advertising, grocery stores and third-party sellers.
Going forward, I could imagine Amazon joining the stock split trend, which could create additional demand from investors.
In addition, I could imagine the company being included in the Dow Jones Industrial Average index after a potential stock split, which could become another stock price catalyst.
4. Conclusion
As already mentioned in the article, the use of delivery drones could become another major game changer for Amazon. On the one hand, the use of delivery drones could reduce personnel, warehouse and delivery costs, which are among the company's largest cost blocks. On the other hand, Amazon could use the delivery drones to develop new business areas and generate additional revenue by offering this service to merchants and third-party sellers.
Additionally, the company could further increase customer satisfaction and loyalty through the time-independent and fast deliveries by using drones. Amazon's self-proclaimed vision is to reduce the delivery time to up to 30 minutes.
Furthermore, delivery drones could help it become a more environmentally friendly and sustainable company due to decreasing pollutant emissions, which, in turn, could attract more environmentally conscious customers and investors.
With regard to valuation, the company is still attractively valued with a fair value of $4,762.53, corresponding to a current upside potential of around 45%, according to my calculation based on a DCF method.
Based on the last quarterly results of remote work or work from home stocks such as DocuSign and Zoom, it can be assumed that Amazon's growth may also have continued or even accelerated compared to the most recent quarter. At the same time, Amazon appears to be favorably valued compared to the peer group.
Furthermore, the company potentially joining the current stock split trend and a resulting inclusion in the Dow Jones Industrial Average index could be additional share price catalysts.
Nevertheless, even if the shares appear fundamentally undervalued, unexpected events are always to be expected on the stock market and there is no guarantee of rising share prices. Investors should always bear in mind that stock prices are volatile and should not be influenced by price movements alone, but rather, should pay attention to the underlying fundamentals. In this respect, investors should always pay attention to their individual risk tolerance.
Developments which could put pressure on the stock price are, for example, ongoing antitrust probes, digital tax disputes, investigations in the context of data collection and data security by public authorities all around the globe.
PS: If you liked my article and you want me to write more articles of this kind in the future, then like, comment and share this article. I intend to publish more about tech stocks in future. If you are interested in finding out my favorite technology stocks, just follow me on Seeking Alpha. Thank you for reading!
Disclosure: I am/we are long GOOG, GOOGL, ZM, AMZN, FB, NFLX, DOCU. I wrote this article myself, and it expresses my own opinions. I am not receiving compensation for it (other than from Seeking Alpha). I have no business relationship with any company whose stock is mentioned in this article.