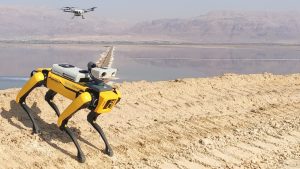 Percepto recently announced an investment of $45 million in Series B funding led by Koch Disruptive Technologies (KDT) to launch a fully autonomous solution that includes UAS and ground robots for asset monitoring, inspection and industrial site compliance.
By operating a fleet of third-party Spot robots alongside the autonomous Sparrow drone, the company's Autonomous Inspection & Monitoring (AIM) platform will provide visual data management and analysis to report trends and anomalies and alert risk levels, according to a news release. When any staff member requests data, Percepto AIM will deploy the most suitable robot to retrieve and stream that data—without involving a human.
"Our customers, which include some of the world's leading utility, oil and gas sites, mining and other critical infrastructure facilities, are eager to fully embrace automation across their operations and reap the benefits of driving efficiency, reducing costs and safeguarding staff," Percepto CEO and Co-Founder Dor Abuhasira said, according to the release. "We're excited to be the first to empower our customers with truly autonomous inspection and monitoring, driven by the management of multiple visual robotic data sources together with other visual sources including piloted drones, CCTV and mobile cameras, on site or remotely."
Spot, developed by Boston Dynamics, is an agile mobile robot. Spot is integrated with AIM to automate inspection rounds controlled remotely via the platform. Spot uses high-resolution and thermal vision to identify issues such as hot spots on machines or electrical conductors, and water and steam leaks around plants and equipment with degraded performance. Data collected is delivered via AIM.
"Combining Percepto's Sparrow drone with Spot creates a unique solution for remote inspection," said Michael Perry, vice president of business development at Boston Dynamics, according to the release. "This partnership demonstrates the value of harnessing robotic collaborations and the insurmountable benefits to worker safety and cost savings that robotics can bring to industries that involve hazardous or remote work."
New investors in the Series B funding include State of Mind Ventures, Atento Capital, Summit Peak Investments, Delek-US and existing investors U.S. Venture Partners, Spider Capital and Arkin Holdings, bringing the total investment in the company to $72.5 million.
"We believe Percepto AIM addresses a multi-billion-dollar issue for numerous industries and will change the way manufacturing sites are managed in the IoT, Industry 4.0 era," said Chase Koch, president of Koch Disruptive Technologies, according to the release. "Percepto's track record in autonomous technology and data analytics is impressive, and we believe it is uniquely positioned to deliver the remote operations center of the future."
---
---
Please note that Pricing and Availability on Drones or other products are not guaranteed and must be verified with retail seller at time of purchase. As an affiliate, we can earn from qualifying purchases, at no cost to buyer.
---
Stay up-to-date with new Drone blogs and new Drones - Join our Maillist
---